Too Many Cooks
Greeting: Happy Birthday!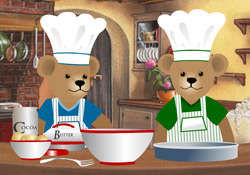 Too many cooks ... make a mess!
Music: Mozart Horn Concerto KV495, third movement, arranged by Mike Hughes-Chamberlain
Not a member? Sign up now!
To send this card you must be a member of jacquielawson.com. If you are a member please log on by entering your email address and password above. Otherwise, please click here for further details.