See also: About Lurgashall About Us
How are the e-cards created?
As Jacquie describes it ... "I draw with the mouse". She creates a lot of the artwork by freehand drawing, sometimes based on paintings she's done in the past, and sometimes on photographs which are then redrawn using a graphics art package. For example, you may recognise the similarities between the photograph of the Lurgashall cricket green below and the opening shot in the "Snowdog" e-card - except that of course the "Snowdog" scene is magically in mid-winter!
The movies themselves are of course created using Macromedia Flash, but Jacquie's favourite program for creating and editing the images which go into them is Corel PhotoPaint.
Jacquie also has a digital video camera, which is useful for short videos, especially of animal movements. Edited frames from videos can then be converted to animated .gifs for reference and redrawing either in PhotoPaint or directly in Flash. Here's an example sequence of a video of "Rosie", the Golden Retriever who became the "Snow Dog" in the Christmas 2001 card.

A short, simple e-card may only take a few days to complete, but a more complex e-card can take around 6 weeks. A lot of this time is taken up with technicalities rather than "pure" artwork - for example, one of the main problems is trying to keep the file size to a mininum – the more animation there is in an e-card, the bigger the file grows – and after a point, the slower the movie will get. This often leads to necessary compromises of quality against performance, so as to ensure that each e-card can be viewed reasonably well on a slow machine as well as on a faster one.
Many of the floral and other e-cards are created by scanning and animating original watercolour paintings by Jacquie's friend Beverley Pask-Hughes.
The movies are written on a 2.7GHz computer with a 17" monitor, and are checked for performance and other considerations on a number of older machines.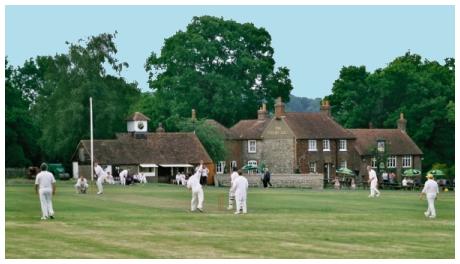 Background music
The music for most of the e-cards is original, except of course where classical favourites or traditional tunes like "Happy Birthday" are used. The music is composed, arranged and "performed" on Mike's computer using the (absolutely wonderful) Sibelius notation program, Cakewalk sequencer, an M-Audio Audiophile 2496 soundcard, Tascam Gigastudio with an ever-growing collection of samples, and a Studiologic SL-800 MIDI keyboard.
We started by adding the music after completion of the graphics, but found that this often resulted in a lot of re-work to get the timings right, so we have now started doing it the other way round!
The music takes up a huge amount of space in the e-cards - typically well over half of the overall file size - so in order to keep the files to a reasonable size we have to compress the music down as far as we dare without completely ruining the sound quality. Most of them are compressed down to 32kbps or 48kbps MP3. Hopefully before long the onward march of technology will mean that everyone will be on high-speed DSL connections and you'll be able to hear it all in glorious CD-quality stereo!