Jacquie Lawson Quick Send Widget
Send cards straight from your desktop!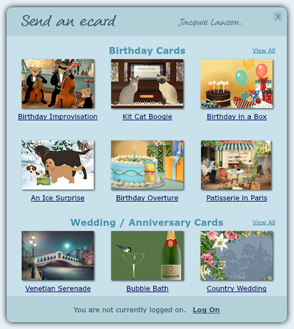 Installation is easy!
Check minimum system requirements(opens a new window).
(Mac & PC Compatible | No adware/spyware)

Click the "Download Now" button below.

Select "Open" on the window that appears.

Follow instructions to run the installation program.
The easiest way ever of keeping in touch!
Send our latest and most popular ecards and note cards directly from your
desktop. The widget automatically refreshes with our latest releases and
most popular cards, so you're never out of touch.
Let Big Ben keep time on your desktop!
Big Ben is possibly the most famous clock in the world, and now you can
have it right there on your desktop. It'll automatically synchronise with your
computer's clock, and optionally you can have it chime every hour (or even
every quarter, just like the real thing)!
Includes handy Calendar app.
Major holidays and birthday reminders are included, and show up directly
on your desktop without the need to check the website. New card notifications
also appear automatically.
Completely free!
That's right, this amazingly useful widget is totally free of charge! (But of course, you do have to be a paid-up member of jacquielawson.com to send our cards.)