See also: About Lurgashall Chudleigh's Pages
Jacquie Lawson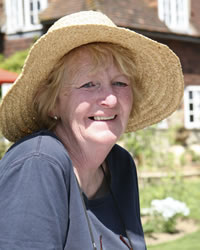 Jacquie originally trained as an illustrator at St. Martin's School of Art, and has over twenty years' experience of working freelance in many areas of drawing, painting and design, including architectural perspectives, book illustration, and cartoons. In the autumn of 2000 Jacquie created her first animated e-card - the "Christmas Cottage" e-card which is still available from these pages - and sent it to a few friends by e-mail. Over the subsequent weeks she was amazed to receive e-mails from hundreds of people all over the world who had received the e-card from friends.
During 2001 Jacquie drew a few more e-cards, and in November a simple website was created to show off her work and allow people to download the e-cards. In December the "Snowdog" e-card was added to the collection, and the website simply could not cope with the demand. A proper e-cards service was set up and launched in February 2002, and the site has gone from strength to strength ever since.
Jacquie lives with her partner Malcolm in a cottage in the village of Lurgashall in West Sussex. The cottage you see in the first Christmas e-card is hers, and the village green in the "Snowdog" card is right outside her cottage. She is a regular at the Noah's Ark pub opposite!

Sally Lisney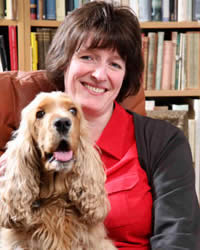 After a few years of making all the cards for jacquielawson.com single-handedly, Jacquie realised that there was no way she could keep up with the demand, and decided to find someone else who could help out. She had to look no further than her niece Sally Lisney, who at the time was a professional violinist and violin teacher, but who had always loved drawing and painting in her spare time. After a few months learning how to use Flash (the software which we use to make the animations) Sally joined the team full-time in 2005. You can see her musical influence in some of the teddy-bear animations - and any violinists will be pleased to note that the teddy's fingering is completely accurate!
Sally lives in London with her husband James and two daughters Joy and Emma, two cats Boswell and Fluff and her Cocker spaniel Bertie. (Bertie and Fluff make regular appearances in her e-cards.) James is a successful concert pianist and you can find out more about him here: http://www.jameslisney.com
Beverley Pask-Hughes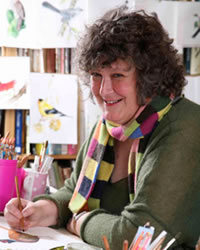 Bev paints the exquisite watercolours which are scanned to form backgrounds and floral features in many of our e-cards. She studied Textile Design at Loughborough College of Art where she won a Bursary from the Royal Society of Arts. She worked for many years as a freelance designer of dress & furnishing fabrics, as well as designing for china, cards & wrapping-paper manufacturers. Her designs have been sold all over Europe and the United States, including Harrods & Bloomingdales! She works mainly in watercolours and gouache, with the occasional venture into acrylics.
Bev spent one Summer painting botanicals for an exhibition run by the Royal Horticultural Society, for which she was an RHS Medal winner. Since then, her designs have concentrated mainly on botanicals, and she is also a keen and knowledgeable gardener. She used to live near Jacquie in Lurgashall, but has since moved to Devon where she has a cottage near the sea, together with her husband Charles and her dog Ralph.
John Bloom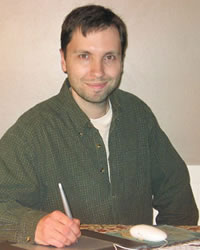 As a child, John spent many hours in front of the TV watching cartoons, with dreams of becoming an animator himself. He started work as a professional artist when he was 17, creating t-shirt designs for a local screen printer. After receiving a Bachelor of Fine Arts from Alfred University, he held various jobs as a graphic designer, illustrator and art director, and taught himself to animate by watching cartoons frame by frame on a VCR.
John first came to our attention when working for another e-card company which was (rather cheekily, we thought) making cards featuring a Labrador dog which bore an uncanny resemblance to our friends Molly and Chudleigh, and - even more cheekily - was doing it rather well. He's now working full time for jacquielawson.com, which presents some challenges since he lives in USA - three thousand miles and five hours in time difference from Lurgashall. So we spend a lot of time on the phone! He is married to Diane and they have two children, Jacob and Gracie.
Mike Hughes-Chamberlain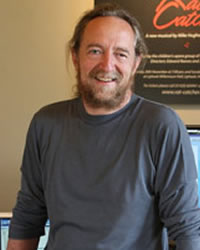 Mike was a co-founder of jacquielawson.com together with Jacquie, and his web design company McLintock Internet Services designed and operated the site for its first few years. Mike read Music at Oxford University and the music for the e-cards is also his work - either original compositions or arrangements of popular tunes. He is also the creator of a children's musical, "The Rat-Catcher", first performed in 2009 (www.rat-catcher.com). He lives in Devon with his wife Morag and two children, as well as a few cats and chickens.