The Jacquie Lawson Country Cottage
Introducing our most exciting product yet — the Jacquie Lawson Country Cottage. Design and decorate your own idyllic virtual home deep in the English countryside.
App features
Indulge your interior decorating skills to create the imaginary home of your dreams.
Have fun playing popular games, then spend the rewards you earn on new furniture and decorative features.
Send emails to your family and friends using beautifully illustrated stationery from your very own writing desk within the app.
Add extra rooms and garden areas to your Country Cottage with our Summer Garden and Kitchen expansion packs.
Download the Country Cottage App for Free
Start experiencing the picturesque wonderland of Jacquie Lawson today! You don't have to be a paid subscriber: just download and log in or create a free membership. The Jacquie Lawson Country Cottage is totally free for you to download and enjoy on desktop, mobile, or tablet devices.
DESKTOP USERS
Click the button below to download your Country Cottage. Then just log in or register, and away you go!
Requires Windows 10 64-bit Home or Pro or macOS Mojave 10.14+
MOBILE & TABLET USERS
Tap the button below to install the Country Cottage from the Apple or Google app store. Then just log in or register, and away you go!
Requires iOS 11.2+ or Android Lollipop 5.1+.
Activities to show off your creative talents, games to challenge your skill, and much more!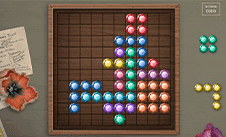 Games to Play
Popular classics and new favourites, such as Klondike Solitaire and 10 x 10, are perfect for whiling away a lazy day — and while you play, you'll earn rewards to spend on your interior décor!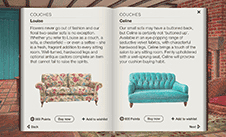 Design and Decorate
Indulge the interior decorator in you! Choose soft furnishings and other home décor items. Mix and match beautiful fabrics, rich textures, patterns and colour schemes.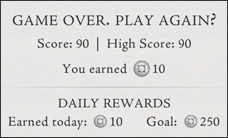 Earn Rewards
Games and other activities earn you reward points, which you can use to improve your country cottage. Anything from lampshades to landscaping!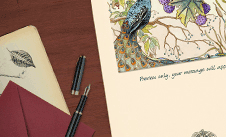 Stay Connected
You'll also have your own writing desk where you can send greetings to your friends and family. Choose from a range of stationery designs to suit each recipient.
Expansion Packs
Expand your Country Cottage by purchasing our Summer Garden and Kitchen expansion packs. You can purchase these right here on our website or from within the app itself, and the extra features will automatically appear in your Country Cottage app. Purchases here on our website will work on any compatible device – Windows or Mac desktop computers, or Apple or Android phones and tablets. If you wish to send an expansion pack as a gift, please purchase here on our website, since app store gifts cannot be transferred to other devices. Please note also that in-app purchases go via the iOS/Android app store, so your contract will be with Apple/Google and you must contact them for any transaction queries or refunds.
Cottage Kitchen Expansion Pack
Add a glorious country kitchen to your cottage! Choose from a range of classic designs, including beautiful kitchen units, a splendid range cooker, and a variety of stylish colours and materials for your floor and wall coverings. There are new games too – Sudoku and Match Three – to earn yet more points to spend on creating the perfect cottage and kitchen.
Learn more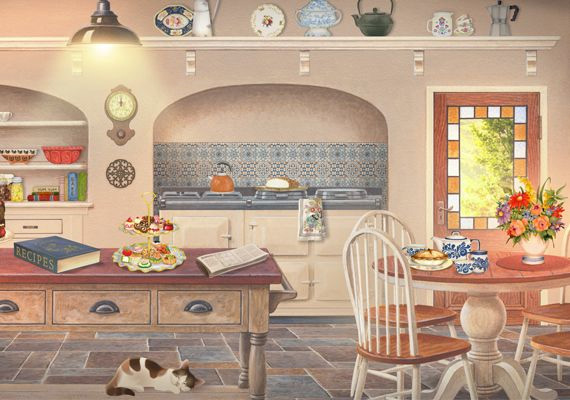 Summer Garden Expansion Pack
The Summer Garden Expansion Pack is available now! Design a beautiful outdoor space to complement your cottage interior, with borders full of colourful flowers and lush foliage! There are also new games to play to earn the rewards you need: Spider Solitaire, jigsaw puzzles, and a new word game too.
Learn more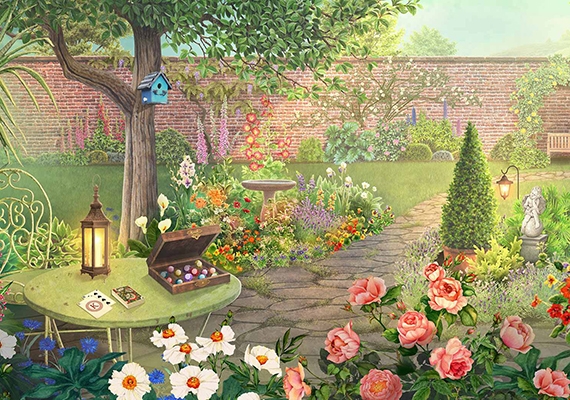 Share the fun of the Country Cottage with your friends! Attach it to any ecard you send, or simply share this page with them so they can download their own copy!