Jacquie Lawson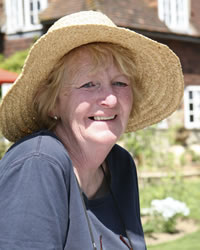 Jacquie originally trained as an illustrator at St. Martin's School of Art, and worked for over twenty years' in many areas including architectural perspectives, book illustrations, and cartoons. In the autumn of 2000 she created an animated Christmas card – the "Christmas Cottage" ecard which is still available from these pages – and emailed it to a few friends. Over the subsequent weeks she was amazed to receive emails from hundreds of people all over the world asking for more of the same.
During 2001 Jacquie created a few more animations, and in November she got together with her nephew, Mike Hughes-Chamberlain, to create a simple website to allow people to download her work. In December "The Snowdog" was added to the collection, and the website could barely cope with the demand. Jacquie and Mike realised that instead of a simple download site, what was needed was a proper ecards service, and after a few weeks of frantic programming, jacquielawson.com was launched in February 2002 – with just five ecards!
Jacquie lives with her partner Malcolm in the village of Lurgashall in West Sussex. The cottage you see in "Christmas Cottage" is hers, and it faces onto the village green which features in many cards. She is a regular at the Noah's Ark pub opposite!

Mike Hughes-Chamberlain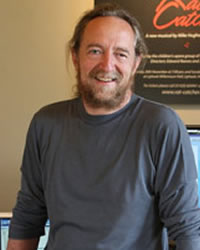 Mike graduated from Oxford University in 1981 with a degree in music, but he swiftly changed direction and joined a London software house as a programmer. By 2001, after 20 years in the IT industry, Mike was running his own web design company, and he set up a simple download site to show off Jacquie's new-found animation skills. Over Christmas 2001 the download site was swamped by huge demand from all over the world, and Mike dropped everything to create a new fully functional ecards website in time for Valentine's Day 2002.
Mike's musical background has proved useful too, since of course every ecard requires a musical accompaniment. Nowadays the increasingly complex IT requirements of the website are handled by a dedicated team, and Mike is able to devote more time to the music for the cards and Advent Calendars, as well as writing our regular newsletters.
Mike lives in Bath with his wife Morag and two children. You can find out more about his music at www.mikestunes.com(opens a new window) where you can also download sheet music and MP3s of some of the pieces he has written for jacquielawson.com.
Sally Lisney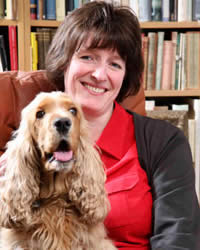 After a few years of making all the cards for jacquielawson.com single-handedly, Jacquie realised that there was no way she could keep up with the demand, and decided to find someone else who could help out. She had to look no further than her niece Sally Lisney, who at the time was a professional violinist and violin teacher, but who had always loved drawing and painting in her spare time.
After a few months learning how to use Flash (the software which we use to make the animations) Sally joined the team full-time in 2005. You can see her musical influence in some of the teddy-bear animations – and any violinists will be pleased to note that the teddy's fingering is completely accurate!
Sally lives in London with her husband James and daughters Joy and Emma, as well as Figaro and Twink the Turkish Van cats, and Bertie the Cocker spaniel. The latter three feature regularly in Sally's ecards of course, so you probably feel you know them quite well already!
Beverley Pask-Hughes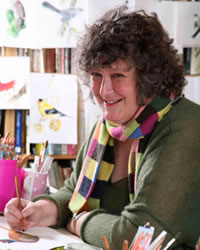 Bev studied Textile Design at Loughborough College of Art where she won a Bursary from the Royal Society of Arts. She worked for many years as a freelance designer of dress and furnishing fabrics, as well as designing for china, cards and wrapping-paper manufacturers. Her designs have been sold all over Europe and the United States, and she once spent a summer painting botanicals for an exhibition run by the Royal Horticultural Society, for which she won a coveted RHS Medal.
In the early days of jacquielawson.com, Bev lived in Lurgashall, just across the village green from her friend Jacquie, and it was almost inevitable that sooner or later she would be called in to help out with preparing artwork for use in the ecards. Bev's speciality is her wonderful botanical paintings which she creates using traditional techniques – mainly watercolours and gouache – and then scans into digital format for use in the animations.
Bev has now moved to the south coast of Devon with her husband Charles and her dogs Ralph and Hattie. She is a keen and knowledgeable gardener, and many of the botanical specimens you see in our ecards are grown in her own wonderful garden.
John Bloom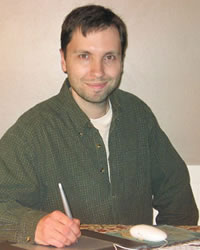 As a child, John spent many hours in front of the TV watching cartoons, with dreams of becoming an animator himself. He started work as a professional artist when he was 17, creating t-shirt designs for a local screen printer. After receiving a Bachelor of Fine Arts degree from Alfred University, he held various jobs as a graphic designer, illustrator and art director, and taught himself to animate by watching cartoons frame by frame on a VCR.
John first came to our attention when working for another ecard company which was (rather cheekily, we thought) making cards featuring a Labrador dog which bore an uncanny resemblance to our friends Molly and Chudleigh, and – even more cheekily – was doing it rather well. He's now working full time for jacquielawson.com, which presents some challenges since he lives in the United States with his wife and two children – three thousand miles and five hours in time difference from Lurgashall. So we spend a lot of time on the phone!
Tom Evans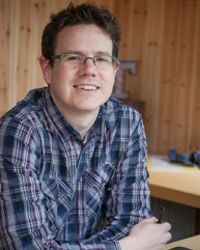 Tom grew up obsessed with reading comic books and painting model figures. He studied Graphic Design and chose to specialise in Animation; so he could now bring the drawings and models he loved to life. When he first started work, computers using the Flash animation software were just taking over from stacks of drawings on paper, and soon Tom was doing freelance animation for a whole host of companies.
When we were looking for a new animator to help with the growing demand for new ecards, we happened to spot some of Tom's work online and it immediately appealed: it was simple but full of humour and character, and we were delighted when Tom agreed to join us full-time.
Tom lives in the Wiltshire town of Bradford on Avon with his wife Liz and two young children Polly and Robert.