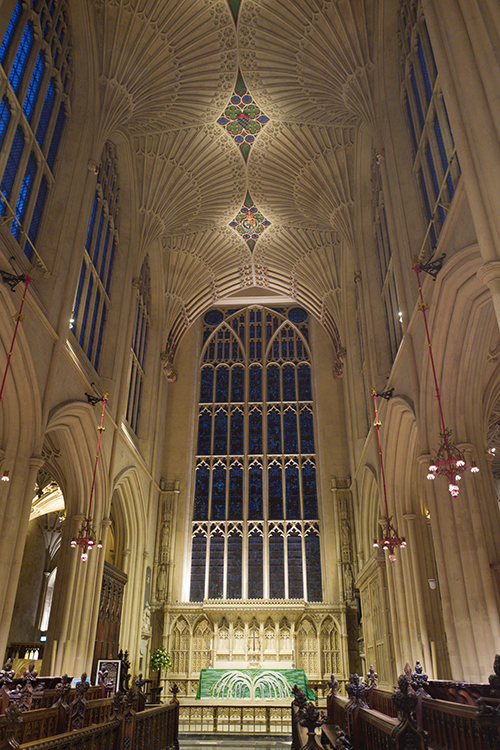 Hot Springs and Warm Summers
November 2022
For a number of years now, much of the choral music in our ecards and Advent Calendars has been recorded by the wonderful choir of Salisbury Cathedral. The recording sessions usually take place in the summer, but even so, British cathedrals are usually quite cold – stained glass windows don't really lend themselves to double-glazing! – so we always bring along a jumper or two.
This year a combination of circumstances led to a change of choir and venue, and so it was that we found ourselves in the Bath Abbey one evening in late August, armed as usual with a carrier bag of distinctly non-summery clothes, to record some distinctly non-summery Christmas carols.
As the evening progressed, we were surprised to find that rather than adding layers of clothing, we were removing them. Subsequent enquiries revealed that the Abbey had recently installed an incredible new underfloor heating system, using free hot water from the springs that also fuel the city's eponymous Roman Baths. You can read more about it here.
The theme for our new Advent Calendar is Sussex, so inevitably one of the recordings we chose was the Sussex Carol (sometimes known by its first line, "On Christmas night all Christians sing"). The carol was so named by the English composer Ralph Vaughan Williams, who spent much of his life finding and transcribing folk tunes from around England. He first heard it being sung by Harriet Verrall near Horsham in Sussex, and he was clearly taken by it: he used it in his "Fantasia on Christmas Carols" of 1912, and he also published it in "Eight Traditional English Carols" in 1919.
For our Advent Calendar we made our own arrangement of the carol, rather than using that of Vaughan Williams, and from their warm and cosy choir stalls the Abbey choristers sang it beautifully for us. We hope you agree!