Spacious Skies
Greeting: Happy Labor Day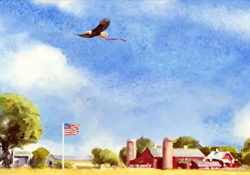 (opens a new window)
An eagle flies majestically "above the fruited plain".
Music: Based on "America The Beautiful", by Samuel A. Ward, arranged by Mike Hughes-Chamberlain
To send this card you must be a member of jacquielawson.com. Please log on by entering your email address and password above, or find out about becoming a member.