The Jacquie Lawson Colouring App
Add a bit of colour to your day - try your hand at colouring in genuine Jacquie Lawson art yourself. Our Colouring app gives you a range of beautiful hand-drawn images to colour in, using specially prepared colour palettes and clever, intuitive tools. And when you've finished your masterpiece, you can choose to add a note and share it with your friends, or even turn it into a fun digital jigsaw puzzle!
App features:
Large range of beautiful hand-drawn images to choose from (and even more if you subscribe)
Bring typical Jacquie Lawson art to life using your own colouring skills and imagination
Choose your favourite colour palette for each image from our carefully curated selections.
Turn your completed art into a fun digital jigsaw puzzle!
Classical background music to soothe you as you work.
Your work is automatically saved for you to return and complete later.
Completely free to everyone - you don't even have to be a member of our ecards service!
The perfect app to while away a lazy afternoon while creating something to share with your friends!
The tools you need to express your creativity:
The app offers a variety of art supplies to give dimension and texture to the image as you colour it in. Once your tool is selected, all you have to do is tap on the artwork to fill in the image.
Use the tube of paint for a rich, solid colour
The colouring pencil strokes look like real cross hatching
The paint brush offers dimension and subtle shading techniques
Oil pastels give you a textured look
You can always use the eraser if you change your mind or need to tidy up any mistakes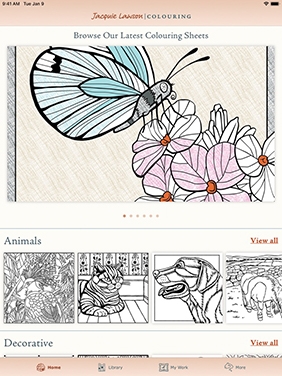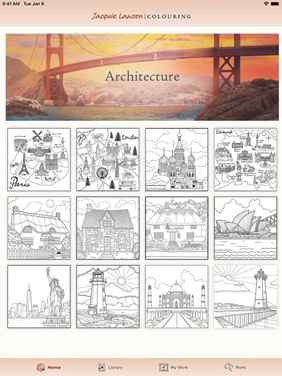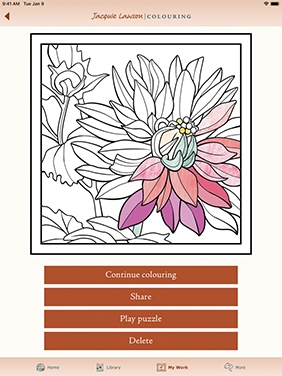 Download the Jacquie Lawson Colouring app for free!
Download the Jacquie Lawson colouring app for iOS and you'll be able to select from a choice of classic Jacquie Lawson line-drawn images, choose from a range of colour palettes for each image, and then colour the image in as the inspiration takes you. When you're done, you can save the image and share it on social media or by email. Or if you're a fan of jigsaw puzzles, you can even turn your masterpiece into your own digital puzzle to play!
Subscribe to unlock more images and colour palettes!
For a modest monthly subscription you can have access to a huge range of new images to colour in, with more to come in the future - as well as extra colour palettes to add that extra subtlety and nuance to your work!

Opens in new tab